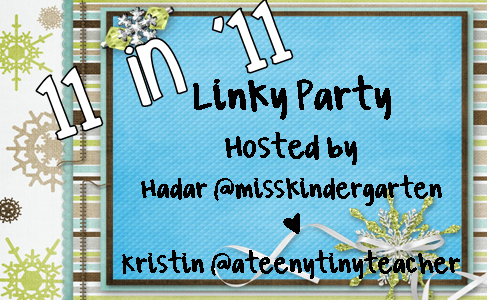 11. Favorite movie you watched:
This is a hard one. It has to be a toss up between The Lion King 3D and The Help (mostly because of the book... so much better than the movie).
10. Favorite TV series:
MAD MEN!!! My boyfriend and I watched this obsessively on Netflix. I am in LOVE with this show!
9. Favorite restaurant:
OMG this is almost impossible for me. I LOVE to eat... how could I pick just one? I recently discovered Chili's and loved it. How could you not love an appetizer, meal and margarita for under $20? I also love lots of restaurants in Boston's North End... the old school Italian section of town. And if you've ever been, you know that any time you eat in the North End, a cannoli from Mike's Pastries is a must!

8. Favorite new thing you tried:
This is really hard! First of all was buying a house. SO scary, but so worth it. The second new thing I tried would have to be (not to copy Hadar or anything...) making activities to sell to other teachers. I was so scared to try it but now I love it! I am trying to make time to write another unit before grad school starts up again.


7. Favorite gift you got:
My boyfriend bought me a house! Enough said. Also, I got FIVE Dunkin' Donuts gift cards from my little ones. I guess they know what makes Miss P happy :)


6. Favorite thing you pinned:
This quiz is impossible. How on earth can I pick just one?!? Didn't anyone get the memo that I am madly in love with pinning? Here are three favorites out of about a thousand.
I was born in Michigan, and have gone back every summer since forever. I LOVE this print that I found on Pinterest, and I actually got it for Christmas. Woo hoo!
Fruit stand made out of cardboard... yes please!
Inspiration for a gorgeous writing center.
5. Favorite blog post:
4. Best accomplishment:
Again, buying the house! In the world of kindergarten, my best achievement would have to be getting more organized in general. Especially
organizing all of my zillion and a half read aloud books
. It has made my life and my teaching so much better! I still have a long way to go, but it feels so good to be organized.
3. Favorite picture:
Again, totally indecisive but here are a few favorites...






And last but not least, a kitty cat photo shoot:





2. Favorite memory:
The amazing time that we had in Mexico last February with my now engaged BFF and her fiance. I have a feeling that it will be my last vacation in quite awhile, so I am so lucky to have gone! It was truly amazing.
1. Goal for 2012:
To save as much money as possible and put it into improvements in our new little house. Extreme couponing, here I come!