So usually for this weekly feature I share easy peasy yet still delicious recipes that busy teachers can make in a flash. However, I had to make an exception for this one. It is called "World's Best Lasagna"!
To make it a litttttle easy peasy, I doubled the noodles, tomato and ricotta ingredients, and used about 1 1/4 pound of both lean ground turkey and italian sausage. This was enough to make two lasagnas. Stick one in the freezer, then all you have to do is let it defrost in the fridge for about 24 hours, then cook it as directed. Another hint that I saw on All Recipes was to let the lasagna sit in the fridge for 24 hours before serving to let the flavors enhance. I tried it, and it was SUPER delicious! I used turkey instead of beef and all reduced fat cheeses in order to make it a smidge healthier. Enjoy!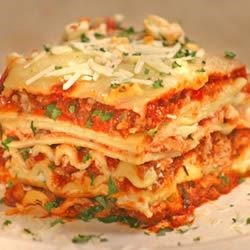 Ingredients
1 pound sweet Italian sausage
3/4 pound lean ground turkey
1 large minced onion
6 cloves garlic, crushed
1 (28 ounce) can crushed tomatoes
2 (6 ounce) cans tomato paste
2 (6.5 ounce) cans canned tomato sauce
1/2 cup water
2 tablespoons white sugar
2/3 cup fresh basil
1/2 teaspoon fennel seeds
1 teaspoon Italian seasoning
1 teaspoon garlic powder
1 teaspoon onion powder
1/2 teaspoon garlic salt
1/4 teaspoon ground black pepper
4 tablespoons chopped fresh parsley
12 lasagna noodles
16 ounces ricotta cheese
1 egg
3/4 pound mozzarella cheese, sliced
3/4 cup grated Parmesan cheese
Directions
In a Dutch oven, cook sausage, ground turkey, onion, and garlic over medium heat until well browned. Stir in crushed tomatoes, tomato paste, tomato sauce, and water. Season with sugar, basil, fennel seeds, Italian seasoning, onion powder, garlic powder, garlic salt, pepper, and 2 tablespoons parsley. Simmer, covered, for about 1 1/2 hours, stirring occasionally.

During the last 30 minutes of cooking, soak lasagna noodles in hot tap water. Drain noodles, and rinse with cold water. In a mixing bowl, combine ricotta cheese with egg, remaining parsley, and 1/2 teaspoon salt.

Preheat oven to 375 degrees F (190 degrees C).

To assemble, spread 1 1/2 cups of meat sauce in the bottom of a 9x13 inch baking dish. Arrange 6 noodles lengthwise over meat sauce. Spread with one half of the ricotta cheese mixture. Top with a third of mozzarella cheese slices. Spoon 1 1/2 cups meat sauce over mozzarella, and sprinkle with 1/4 cup Parmesan cheese. Repeat layers, and top with remaining mozzarella and Parmesan cheese. Cover with foil: to prevent sticking, either spray foil with cooking spray, or make sure the foil does not touch the cheese.

Bake in preheated oven for 25 minutes. Remove foil, and bake an additional 25 minutes. Cool for 15 minutes before serving.